September 28., 2015.
The Harag György Company opens the new season presenting Manka directed by Hatházi András, actor of the Hungarian Theatre of Cluj. The performance is distinguished by the fact that the play written by the director himself is going to be its very first performance.
Bessenyei Gedő István, the artistic director of the company, said he would like to maintain this tradition of presenting pieces in absolute premiere, now also having two such performances in the program, namely Hello, doctor Mengele! and Manka.
What needs to happen that an authentic and well ingrained habit, valid for thirty-four years our daily routine to be disturbed? When do we become "old" enough so we can say that nothing can surprise us. Not even love. What does crime need? Jealousy? Anger? Secrets? Anyway: how long lasts a secret? Who is the delinquent? Anyone who commits a crime, or who gives others the possibility to commit it? Are there crucial issues in everyday life? Or there are just fool people disguised in geniuses who speak just to help time to pass more quickly? What does one need to be convinced about? Do we need to be convinced? Can we be sure of anything? Seven people on stage; each loves; each believes; each full of good intentions. So, appears the question: why is so difficult to live together?
Who are people? What are people?
Or there is nothing else tan theatre?

Photo: Czinzel László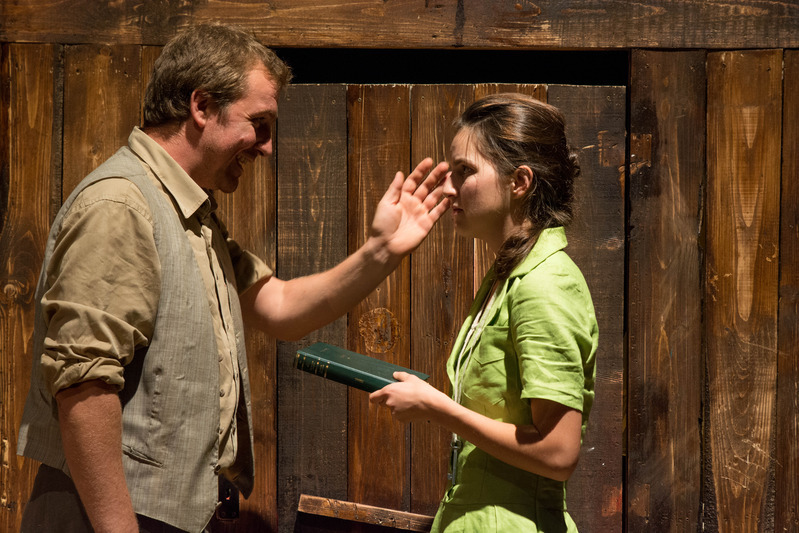 Gaál Gyula and Sándor Anna

Cast: Marosszéki Tamás, Kovács Nikolett, Gaál Gyula, Bogár Barbara, Kányádi Szilárd, Sándor Anna, Poszet Nándor. Director: Hatházi András, guest, set and costume design: Cristian Gătina, assistant: Végh Balázs, cameraman: Süveg Károly, stage director and prompter: Fábry Zoltán.
The premiere of the public stage performance will take place on 25th of September, 7 p.m. Tickets can be purchased the ticket office of the theatre from Monday to Friday between 10.00 and 17.00 or one hour before the starting of the performance. For more information please contact on phone 0261-712106, or e-mail: szervezes@harag.eu.