March 8., 2016.
Saturday, March 5, starting at 19.00 , György Harag Company presents a new premiere, a performed after the famous work of Örkény István, The Tot amily Everything. The performance, directed by Sorin Militaru, being held in the Great Hall of the House of Culture, with titration in Romanian.
Tot family receives in their home the superior of their son soldier on the Eastern Front of the Second World War. Damaged nervous system of the Major tests not only major himself but also family. Major appears in their lives as power in person. Major, master of life and death, installs as a pagan god, the existence of family and disrupts the entire community life: it depends on him the survival of their son. They fear and pay him homage him, even despite the ordeals, trying to love him because is their only hope. The family satisfy his most absurd desires, idolizes and serves him, their life is an absurd continuous pray for the beloved child. But until why this can last this seemingly endless memorial? How many times can a man be humiliated? Appealing to Örkény's comparison taken from Camus we could ask: whenever dare Sisyphus, respecting Gods' sentence, to roll the rock to the top of the mountain? Does he rebels, and if so, wouldn't it be too late?
Where actually began Sisyphean ordeal the family Tót? Does it have an end? Does god of power is always present everywhere? The apparent idyll, the image of quiet home was it really? And if these are merely colorful wall papers, some appearances in the shadow of a new incarnations of power?
The artistic director of Harag György Company, Bessenyei Gedő István said that this performance, as well as Chekhov's The Seagull, must be included in any fixed theater program. This performance is a special one because there is met two different theatrical traditions, Hungarian and Romanian , a meeting that is shown to be very fruitful. It is interesting to note how sees the Romanian theatrical tradition, centered on visuality, this play which is part of the canon of Hungarian dramaturgy .
At the press conference, the director Sorin Militaru said that it was a great pleasure working with the team, the actors deserve all the congratulations. Regarding his mounting concept, he mentioned he worked according his own terms.
Cast: Nagy Csongor Zsolt guest, Rappert-Vencz Gábor, Moldován Blanka, Bogár Barbara, Orbán Zsolt, Gaál Gyula, Bodea Tibor, Kovács Nikolett, Frumen Gergő, Nagy Orbán, Varga Sándor, Gál Ágnes, Marosszéki Tamás, Poszet Nándor, László Zita, Zákány Mihály.

Photo: Czinzel László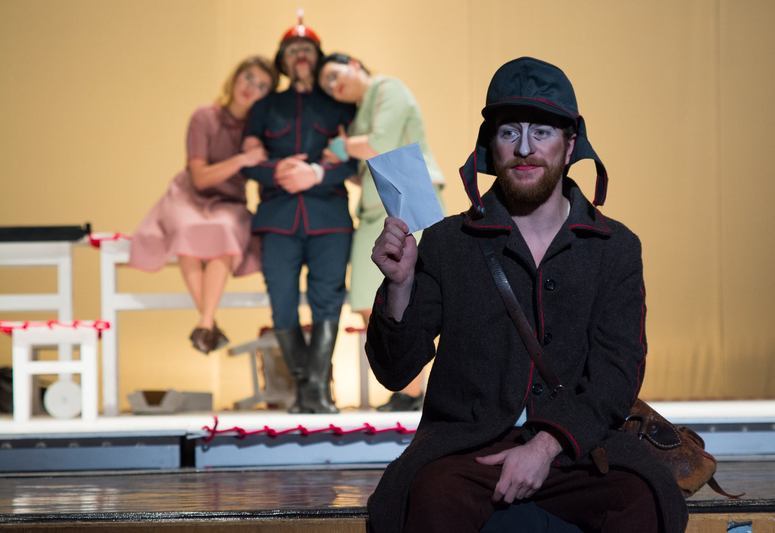 Orbán Zsolt, Bogár Barbara, Rappert-Vencz Gábor, Moldován Blanka

Director: Sorin Militaru, set design and costume: Márton Erika guest, dramaturge: Bessenyei Gedő István, choreography: Bordás Attila, assistant: Tamás Ágnes, stage director and prompter: Szabó Ritta.

Photo: Czinzel László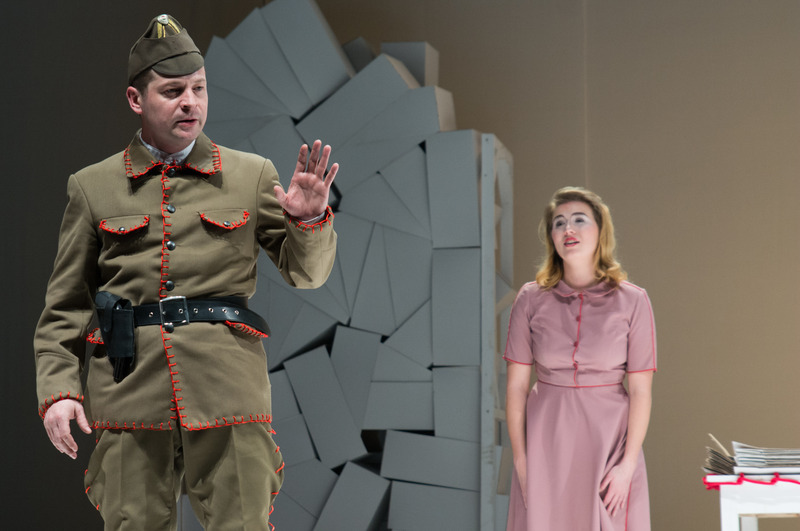 Nagy Csongor Zsolt m. v., Bogár Barbara

Tickets can be purchased the ticket office of the theatre from Monday to Friday between 10.00 and 17.00 or one hour before the starting of the performance. For more information please contact on phone 0261-712106, or e-mail: szervezes@harag.eu.