May 23., 2017.
The Harag György presents the last the premiere of season played on the main stage, that is famous musical of Dés-Gadge-Békés, Jungle Book directed by Nagy Regina.
At a press conference held before the premiere, the artistic director of the company, Bessenyei Gedő István, mentioned that this performance had been played years ago, however, it cannot be considered a replay, because the vast majority of the characters have been changed." The four performances programmed on this season entering under the subscriptions for students, but next season we follow to include for adults, because the message is indicative of any generation. "
Director Nagy Regina pursued in carrying out the performance, presenting the world of animal, concerned that how the inhabitants of the jungle respects ancient laws, In contrast to the world of cunning people. "I love this play, because it has wonderful sound line, the text of the songs is superb and it has unsurpassed dramaturgy. It outlines very nice huge difference between the animal and the people world."
Orbán Zsolt, actor who gives life to the character Mowgli, together with Nagy Csongor Zsolt, prepared in a special room, driven by professional coaches, the final battle between Mowgli and Shere Kaan.
It was a period of intensive rehearsals, and a rather short time, which why the choreographer of the performance, Gabriela Tănase, began preparing the volunteers, with two months before the rehearsals starts
Cast: Orbán Zsolt, Bessenyei István, Rappert-Vencz Stella, Bodea Tibor, Péter Attila Zsolt, Rappert-Vencz Gábor, Nagy Csongor Zsolt, Gaál Gyula, Budizsa Evelyn, Marosszéki Tamás, Bándi Johanna, Bogár Barbara, Poszet Nándor, Varga Sándor, Laczkó Tekla, Gál Ágnes, Keresztes Ágnes and: Csúcs Dávid guest, Jankó Szép Tamás guest, Jeromos Dávid Ákos guest, Muhi Andrea guest, Báthori Boglárka guest, Kerekes Barbara guest, Volfer Vanessa guest, Képíró Dorottya guest, Nagy Janka guest, Süveg Attila guest, Scheitli Krisztina guest, Vadai Zalán guest and Szántó Gergő guest.

Photo: Czinzel László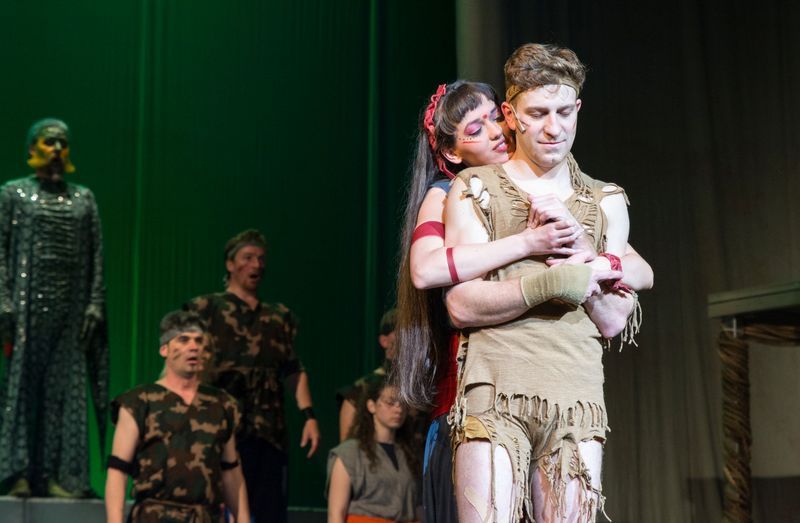 Rappert-Vencz Gábor, Varga Sándor, Gaál Gyula, Budizsa Evelyn, Orbán Zsolt

Musical coordinator Manfrédi Annamária, set design Cristian Gătina guest, costume Bodor Judit guest, costume assistant Nagy Anikó, director assistant Tamás Ágnes, stage director and prompter Fábry Zoltán.